How to narrow the results when you have several first names ?
Are you looking for a person with several first names and you want to narrow
the results? Use the Exact first names filter!
Are you looking exclusively for Jean Marie Descieux?
Enter the first name Jean Marie


Click on the first names filters




Click on "Exact first names"
You only get Jean Marie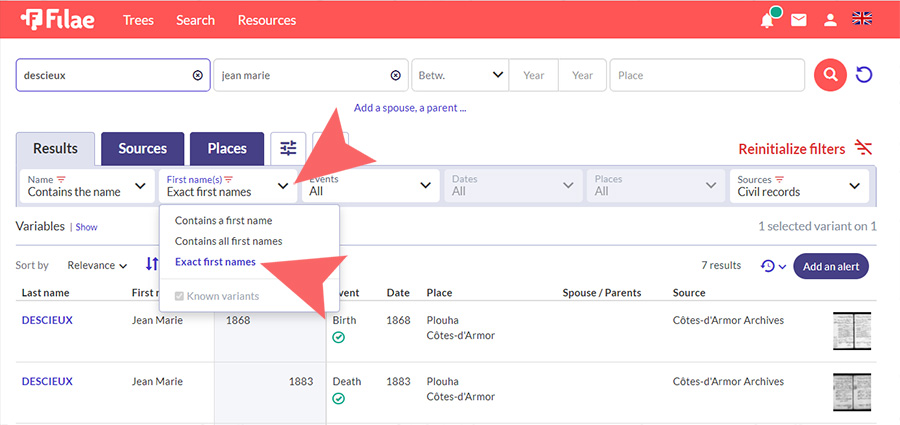 Use with caution !
Jean Marie could be simply named Jean or Jean Pierre Marie!
Vous n'avez pas trouvé l'information dans les questions & réponses ? Contactez-nous !
Par téléphone
: du lundi au vendredi de 9h à 17h au 01.44.84.95.16 (numéro non surtaxé – coût d'un appel local)
Par courrier
: Filae S.A. Service client - Tour Gamma B - 193/197 rue de Bercy - 75582 PARIS CEDEX 12 (Merci d'indiquer votre adresse email)
Related Articles

How to find records despite the changing spelling of the names ?

Discover all the tools available in the search to take into account all the variants and evolutions of a last name. The last names are indeed written very differently from an record to another but thanks to the filters and the wildcards, you avoid to ...

Why my tree doesn't show in the searches ?

Your tree doesn't appear in the results for 2 reasons : You're looking for a living or contemporary person : they are excluded from our search engine for confidentiality reasons. The option "Do not display the results of my trees in my searches" is ...

How to create a tree for free ?

Create and enter your genealogy for free on Filae ! Take advantage of the available tools : maps, research monitoring, statistics... You can also invite relatives so that they can consult the results of your research. Create an account on Filae ...

You can add, remove or modify your alerts

In order to access the Alerts, go to login in filae.com Click on the figure icon on the top right Click on "Alerts" You can add, remove or modify your alerts On the right of each alert, click on the pencil to modify or click on the bin to remove ...

My tree disapeared ! How to find it ?

You connect to your account and in the Tree menu, your tree doesn't appear ? Click on the menu on Tree, then on all trees to check the presence of the genealogy If there are no genealogies : Are you sure you didn't delete the genealogy ? Is it ...